This 2020 review is given with mixed emotions. The GAA/Camogie are a mainstay for so many people, young and old. To have it removed from our lives was a disaster to our teams who had their active lifestyles totally postponed.
It was the season where we stayed apart to keep going together. We had to close in March and did not get back on the pitch until 29th June 2020. Covid-19 tried its best to stop our game but it did not succeed. We had to adapt our thinking, the way we trained, our grounds and the format of our games and that is exactly what everyone in the club did.
There were no camps or parades this year and our clubhouse had to close.
A huge thank you is needed to absolutely everyone for their part that they played in getting our season up and running and keeping it going.
The GAA/Camogie Association: it was great to have the guidance throughout the season and the Health Questionnaire app. 
The players who sanitised on and off the pitch and gave it their best when we got back to play.
The coaches who ensured training could continue by keep up with and implementing the guidelines.
The parents who completed the Covid-19 Education courses.  Who took temperatures, checked-in on the app and ensured they and their players abided by the new procedures.
The Covid Supervisor:  a necessary and new introduction for this season.  We thank these parents especially that stepped up to ensure we could step out onto the field.
Executive Committee and The Grounds Staff who provided guidance, signage, sanitiser and made all the necessary amendments to our procedures and grounds so we could all be safe.
It would not have succeeded without everyone's compliance and it is no small task that we were covid clear here at the Rocks. Well done to all, so proud of this club.
CAMOGIE
We were hoping for a team at every level, which has been our goal for several years now, but unfortunately, we could not assemble a ladies' team this year. We did have a team in each of the juvenile age category.
Due to the confines of the season, our under8s, under10s and U12s had a couple of practice matches with Avondale and Aughrim to keep up with game play until the Go-Games started.
Under 8s
At this age Camogie is all about fun and we try to fit as much in as possible here at Arklow Rock Parnells Hurling and Camogie Club.  We trained on Saturday mornings as and when we could.  It is a great team sport for girls even as young as four or five.   Even in the strange year we had we had a few new little players and we have had a couple of mums be totally surprised at how much their daughters learn and how well they can play with a hurl and sliotar whilst wearing a helmet.

Our under 8s played in only two blitz competitions but when they did they give it everything, and winning most games.  The rest of the season was about keeping them training and on the pitch.  This meant training a little differently and some weeks not being able to play the game of Camogie. 
Good luck to our Little Rockettes that move up to the under 10s next year!
Coach: Penni Heald Covid Supervisor: Denise Pierce
PANEL: Ava Tobin, Bronagh Healy, Caoimhe Kinsella, Chloe Kinch, Emily Allen, Eva Mellon, Jade Flusk, Jessica Pierce, Kate McGeachan, Kate Wolohan, Kaylin Kinsella, Lily Curran, Michaela Kinsella, Sophie Breslin, Sophie Scallan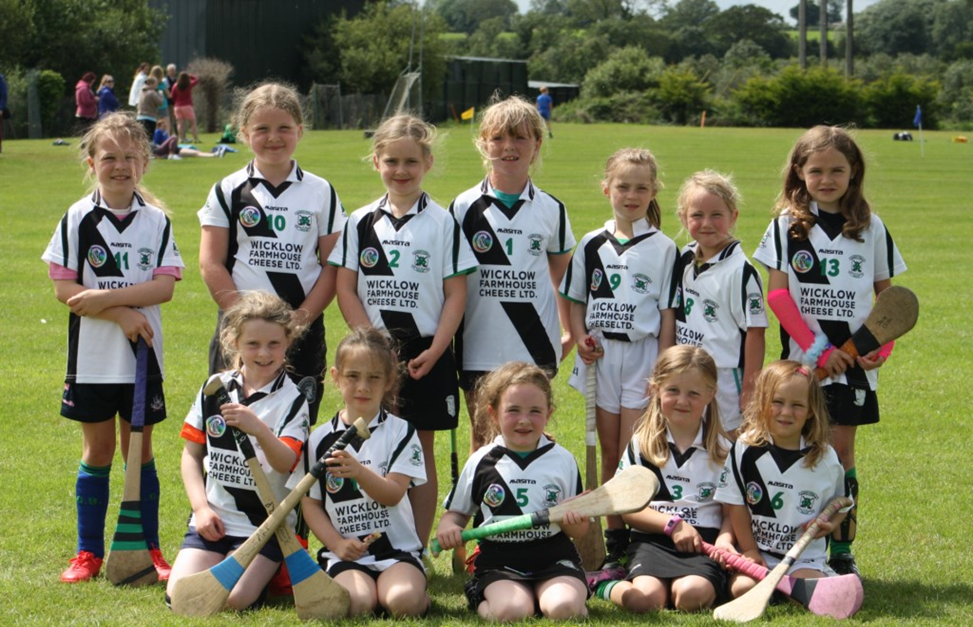 Under 10s
The U10 girls have had a very successful season and training is still going! The girls played blitzes at home, in Avoca and Carnew. The enthusiasm and numbers have been growing all season. A lot of these girls will move up to U12 next year and will hopefully enjoy continued success.
Coach: Danny Curran Covid Supervisor: Daimhnait McDonogh
PANEL: Abi Melzer, Annie Breslin, Caoimhe McDonough, Ciara Chell, Ciara O'Shea, Clíona O'Donovan, Elsa Byrne, Emilie Vautrin, Grace Furlong, Hannah McGeachan, Isobel Farrell, Karla Redmond, Kate Geraghty, Keeley Stafford, Layla White, Lily O'Donnell, Maisie Byrne, Méabh Riley, Mia Flusk, Laoise Mellon, Zoe Walsh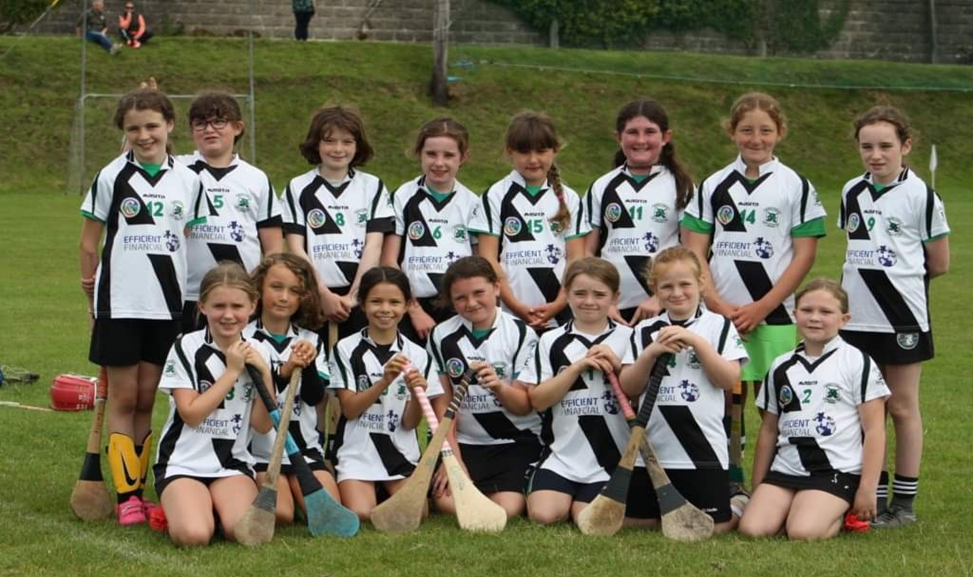 Under 12s
This year Vinnie Byrne handed over the coaching to our newest coach, Jimmy Kavanagh. These girls played in the U12 league and the improvement from game to game was immense. A great forming team in a very strange year.
They started late, but with great numbers which continued over the season. We played five games won three, drew one and lost one. The girls were ever improving as their efforts on the training field really shone through. The younger girls really stood up during the year and followed the lead of our older girls.
Big thanks to all the parents who brought them to every training and every match.
The year was strange in every way but our girls did not let that bother them and trained hard and got on with it with smiles and laughter. Here's to 2021!
Coach: Jimmy Kavanagh Covid Supervisor: Sarah Forde
PANEL: Abbie Reid Furlong, Alaoise Geraghty, Aoibhe Merrigan Carroll, Ava Wolohan, Bronwyn Crummy, Clodagh Carroll, Emma Jane Reid, Erin Byrne, Freya Molloy, Gracie Byrne, Kara Gager, Kitty Byrne, Leah Mellon, Lucy Forde, Maeve O'Donovan, Niamh McGeachan, Olivia Byrne, Sadhbh Fitzgibbon, Sinead McCarthy, Siun Byrne, Sophie Hughes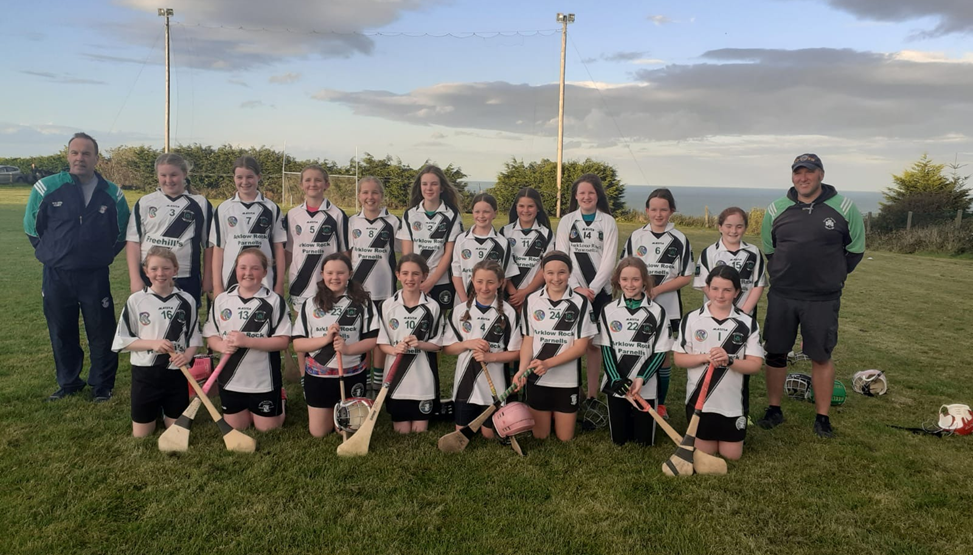 Under 14s
What a year for our intrepid under 14 team. Even covid couldn't dampen the enthusiasm and love of Camogie shown by the team. Led by our wonderful new coach Keith, we entered the u14 12 aside league and began our battles. Even though we were not successful in the league, each game was hard fought to the end.
In a most unusual year for sport we were delighted to welcome new members to the team who have contributed hugely to the Arklow Rocks family. They have shown talent and commitment and have grown in skills in the last couple of months. They were welcomed into the team by our regular players who encouraged and mentored them. The team spirit and dedication shone through even in the lashings of rain and cold November training.
The u14 team for 2020 were a fabulous bunch of girls, coached by a fantastic coach and we look forward to whatever challenge 2021 brings (less chatter I hear coach Keith say).
High hopes for this team in the season to come.
Coach: Keith Delaney Covid Supervisor: Richella Woods, Grainne Seckington, Jasmin Chadwick
PANEL: Abbey Wolohan, Ailbhe Wood, Aoise Dunning, Catherine Bourke, Deirbhile Gavaghan, Ellie Duffy, Emily Hayes, Emma Seckington, Eva Duffy, Grace Delaney, Isabelle Chadwick, Isobel Byrne, Kate Priestly, Nia Devereux, Niamh Farrell, Saoirse Chell, Sarah Hudson, Sarah Keeley, Sophie Mooney.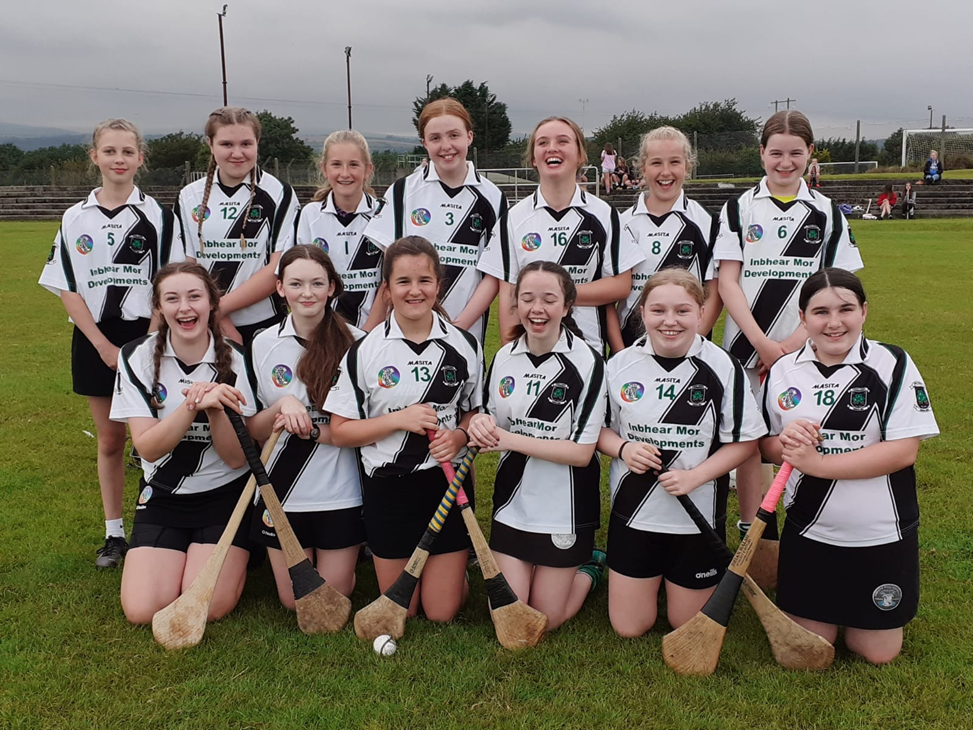 Under 16s
This year was a first for us at this grade as we amalgamated with Annacurra at this age group. This proved to be a huge success for both clubs. We started in February training under lights in Arklow with up 20 girls. The girls just gelled immediately and became a very close tight knit group, which was great to see. Unfortunately, Covid-19 broke up the party and we did not get together again until July. We should not have worried that this break would affect the girls, if anything it brought them together tighter.
They reached a semi-final in a very well run and tough championship. They never gave up and their spirit brought them through some tough battles. The skills they showed and camogie they played was fantastic. They did everything that was asked of them and were unfortunate to come up against a very good Kiltegan side in the semi-finals.
This amalgamation was of huge benefit to Arklow Rocks and it is hoped it is something that can be developed going forward. A big thank to the management team who worked really hard for the girls during the season.
Coach: Vinnie Byrne Ann Marie Doyle Gareth Cullen Anne Doyle
Covid Supervisor: Penni Heald
PANEL: Aine Byrne, Amy-Lee Hill, Ciara Lancaster, Elizabeth Bourke, Erin Bardon, Grace Delaney, Kelly Somers, Sarah O'Driscoll, Tegan Hatty, Laura Doyle, Eve Hannay, Chloe Cullen, Hannah Doyle, Lacy Jane Shannon, Niamh Molloy, Sadhbh Byrne, Molly Hynes, Juliette Ni Chonaill, Aoife Stafford, Ella Byrne, Isobel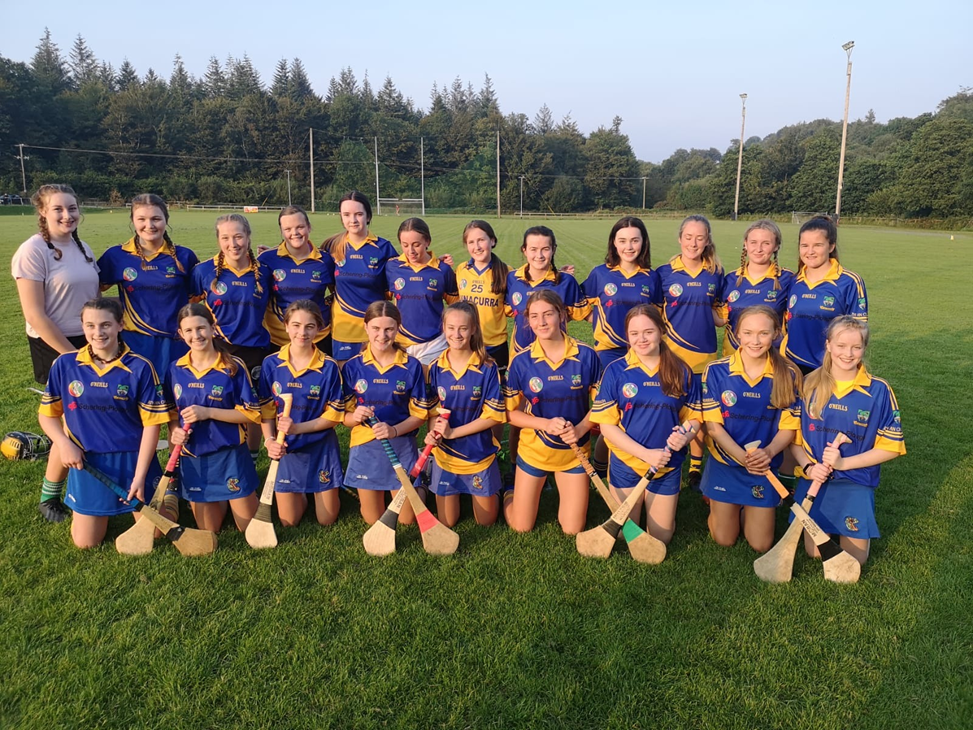 HURLING

Under 7s and Under 9s
A huge well done to our fantastic bunch of hurlers, our under 7 and under 9 players.  Due to COVID our hurling did not start until July with an away trip to Carnew.  We were never off the road for the rest of the season. Both these teams travelled to Carnew, Glenealy, Rathdangan and Kilcoole and we would like to thank their parents for being there to support them. The only negative point this year was that these fine young hurlers did not get to play a home game.
See ye all in 2021!
Coach: Philip Byrne Covid supervisor: Kim O'Leary
PANEL: Aaron Doyle, Danny Curran, Fíonn O'Donnell, Jacob White, PJ Wolohan, Padraig Marbach, Senan Healy, Tadhg (George) Fitzgibbon, Teddy Guilfoyle, Tommy Madigan, James Wolohan, Brian O'Donovan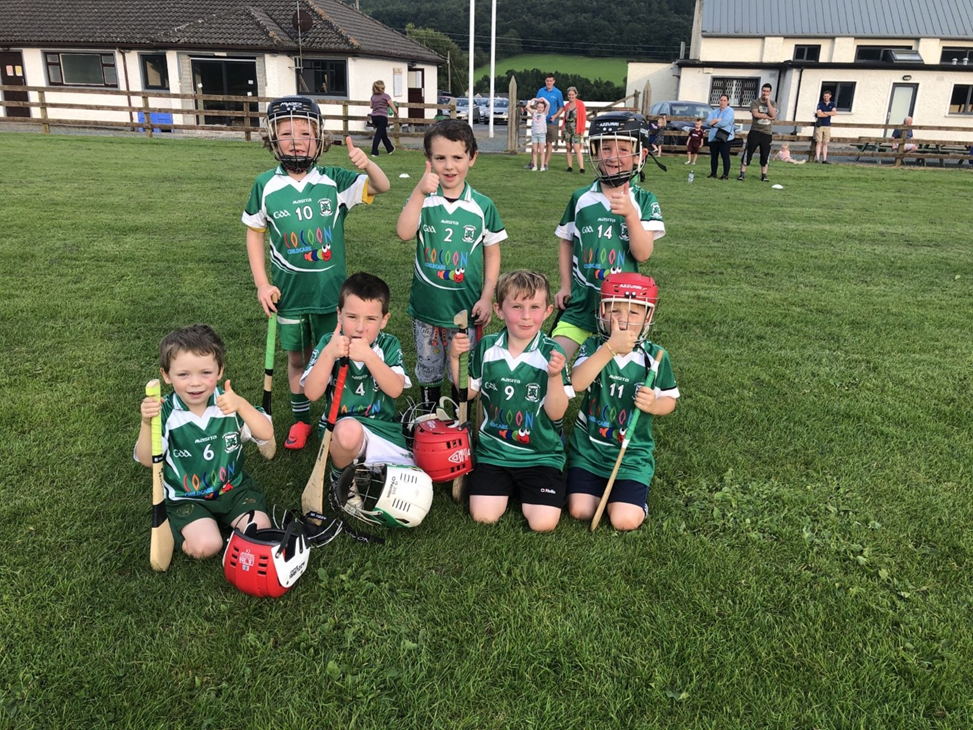 Coach: David Carroll Covid supervisor: Sally Ann Massey
PANEL: Aaron Scanlon, Alex Massey, Bobby O'Leary, Ciaran Mellon, Eóin Wright, Faoláin Merrigan Carroll, Jayden Browne, Noah McDonald, Ollie Madigan, Oscar Fitzgibbon, Sean Kavanagh, Senan Byrne, Shane Fortune, Shane Scanlon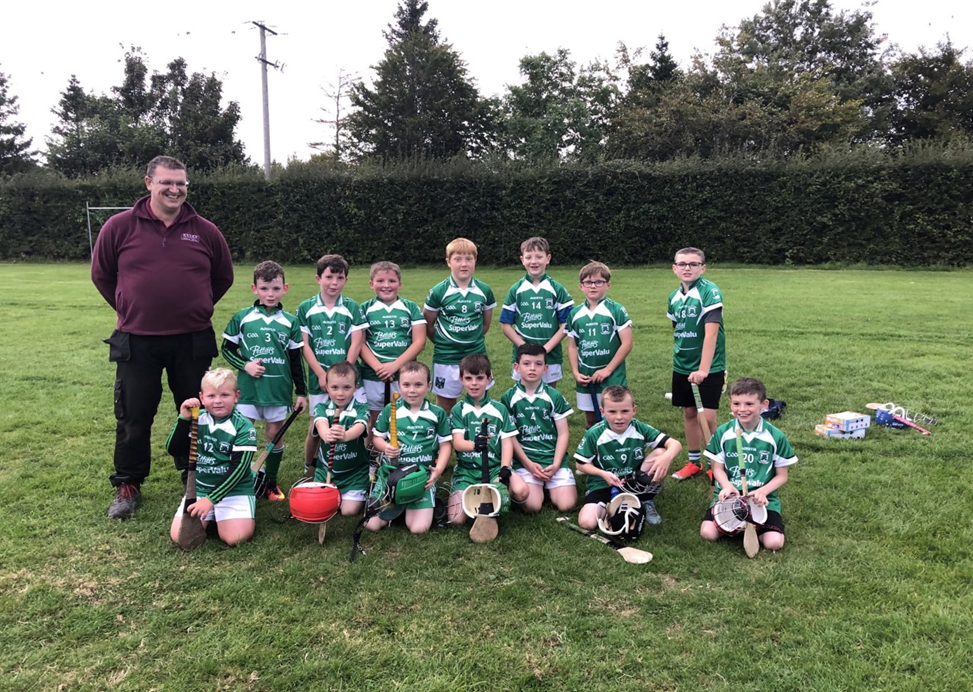 Under 11s
Our under 11 team for 2020 was primarily made up of players who had just came up from our under 9 team of 2019. Our team was strengthened by just 5 players who were 11, now this may seem like a mammoth task for most teams but not for these enthusiastic, skilled, determined players.
As a group of players, they were a delight to coach as their enthusiasm and determination was plentiful. We had more experienced players who were always there to help and encourage the younger lads in Finn O'Leary, Bill Connors, Edward Breslin, Thomas Bracken and Sylvester Burke
The year started well and they went unbeaten into the COVID Break. Plenty of hurling must have been done at home as on their return they showed no signs of rustiness. They continued with their winning ways until we met Western Gaels on a Wednesday evening in Blessington. This game was nip and tuck and a really good game of hurling from both sets of teams with the boys from the west winning this game. All was very positive after the game as some of the younger guys realised that things were not always going to be plane sailing. Word came out in the days following that we were to play Western Gaels in our County Final.
This did not phase our young warriors as they trained harder to get the basics right and make good the few mistakes made in the previous game.

On to our County Final day, a day that will live long in the memory. There was a giddiness and a determination in the lads as they done their warm-up. The scene was set, the green and
white flags were meticulously placed by their nervous-looking parents along the side-line.
The match started and we got off to a great start with Bill Connors in good form racking up a few early points. Edward Breslin was dominant in the middle and Finn O'Leary and Faolain shoring up the back line. It was end to end stuff but the Rock Stars had saved their best to last and went in ahead at half time.
The second half was to prove different and the phrase "a game of two halves" came to mind. We were under savage pressure from Western Gaels and they had come out with all guns blazing coming back to within two points of the Rocks. With Thomas Bracken like a cat in the goals and his exceptional puck outs gave the lads the encouragement they needed. The lads were not going to let this one slip away and got back on top aided by a magnificent goal from Ryan Mellon.
The final whistle blew and the celebrations began there was not one person there that had not got a smile on their face. Players, parents, grandparents, everyone a sight to savour!
However, the season was not won on one game, it was eight months of hard work from the lads and a magnificent all-round honest effort from ALL the players involved. At a time when things are so unpredictable it was great to get the league finished and credit must go to Hugh Kenny in succeeding in this and a very well ran programme of games.
So yes, our u11 had a great season on so many fronts, definitely a team to watch for the future!
Coach: Bryan O'Leary Covid Supervisor: Penni Heald
PANEL: Conal Devereux , Darby Guilfoyle, Diarmuid Casey, Dylan Forde, Edward Breslin, Eoin Byrne, Finn O'Leary, Jack Curran, Ryan Heald, Ryan Mellon, Séamus Killoran, Sean Farrell, Sylvester Bourke, Thomas Bracken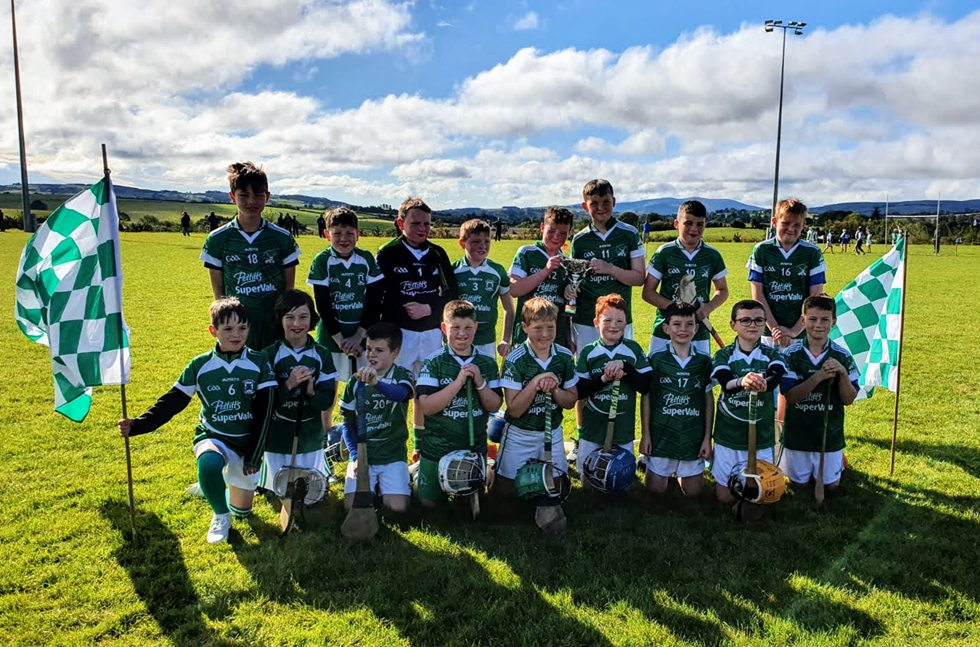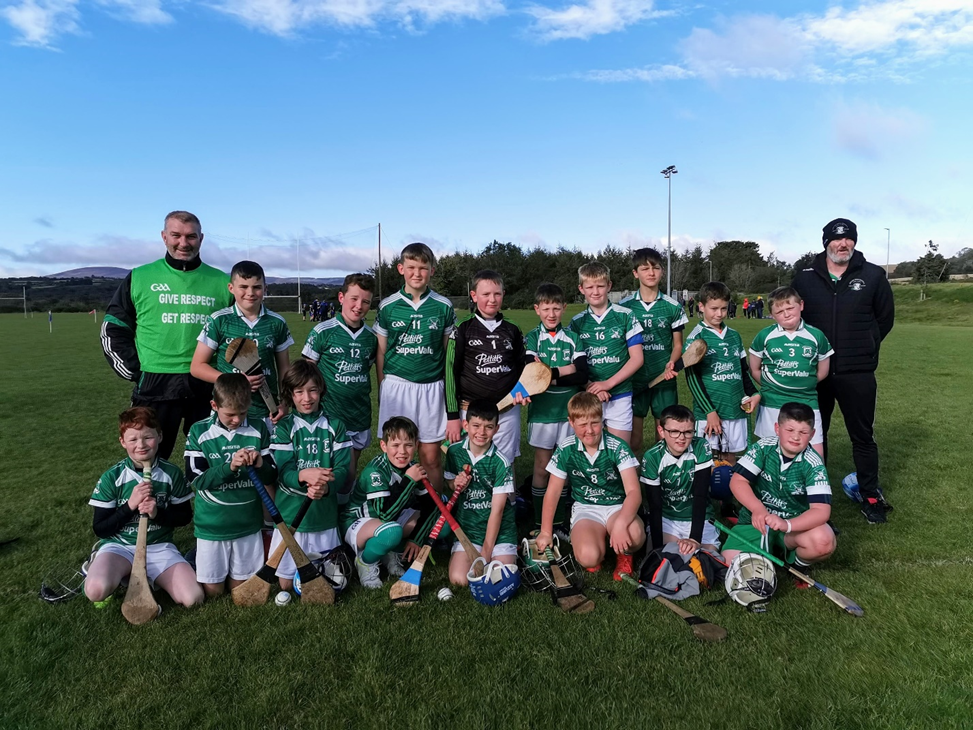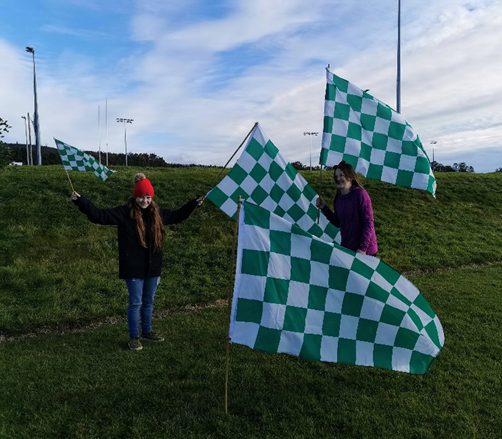 Under13s and Under15s
In what has been a horrible year for our kids there was some light. Although the Féile competition was cancelled and no academy squads trained, our under 13 and under 15 squad luckily both got to play in their respective leagues.
At under 13 we played 5 games, winning all 5 and earning our right to contest the A championship final after beating St pat's in the semi-final. The final awaits and hopefully will be played in the very near future.
At u15 we also contested the league but with a very young team our focus was on development. We were on the end of a few defeats but showed tremendous character and never die attitude. The lads should be commended and were due to play Eire Óg in a shield final.
In what was a horrible year there is always stand out moments. For us this year it came from Inver Bathrooms, who despite the effect on them by covid, supplied our squad with a brand-new kit so the lads looked professional on the pitch. We sincerely thank you.

We really hope this saga ends soon, and the kids get back their normality.
Coach: Jason Redmond, Sean Pierce, Liam Murphy, Bill Covid supervisor: Denise Pierce
U13: Cian Redmond, Matthew Byrne, Aaron Hughes, Donnacha Murphy, Tiernan Gahan, Jack O'Reilly, Miley Connors, John Erasmus, Theo Byrne, Finn O'Leary, Tirnan Pierce, Josh Curran, Eric Wright, Nicholas, Cian Doyle, Se Killoran, Jim Connors, Thomas Bracken, Bill Connors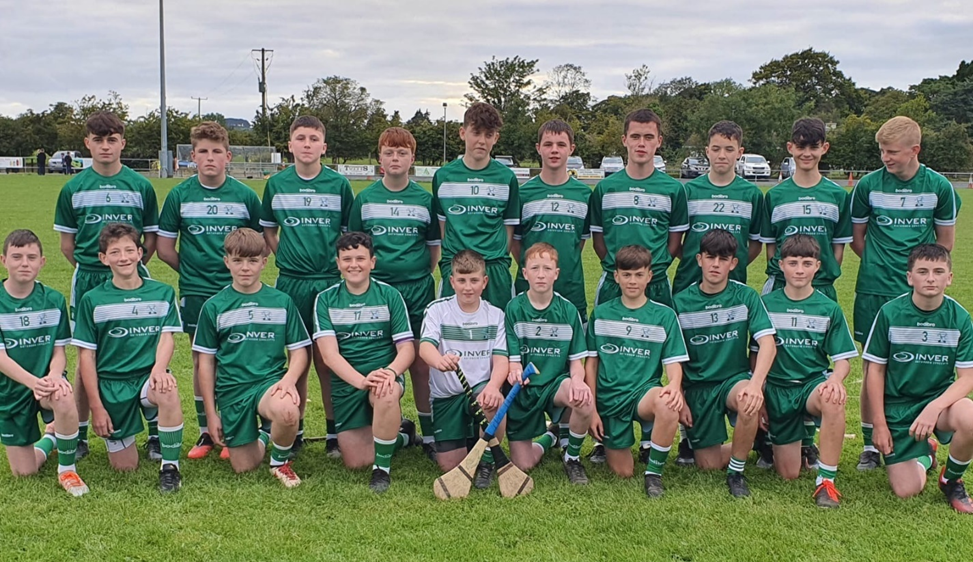 U15 PANEL: Bartley Crummy, Matthew Byrne, John Erasmus, Padge Shaw, Adam O'Leary, Mikey Kinsella, Niall O'Donovan, Liam Murphy, Jack O'Reilly, Jamie Somers, Miley Connors, Tiernan Gahan, Adam O'Farrell, Paudraig Kelly, Donnacha Murphy, Sé Killoran, Cian Redmond, Aaron Hughes, Theo Byrne, Tirnan Pierce, Daragh O'Connor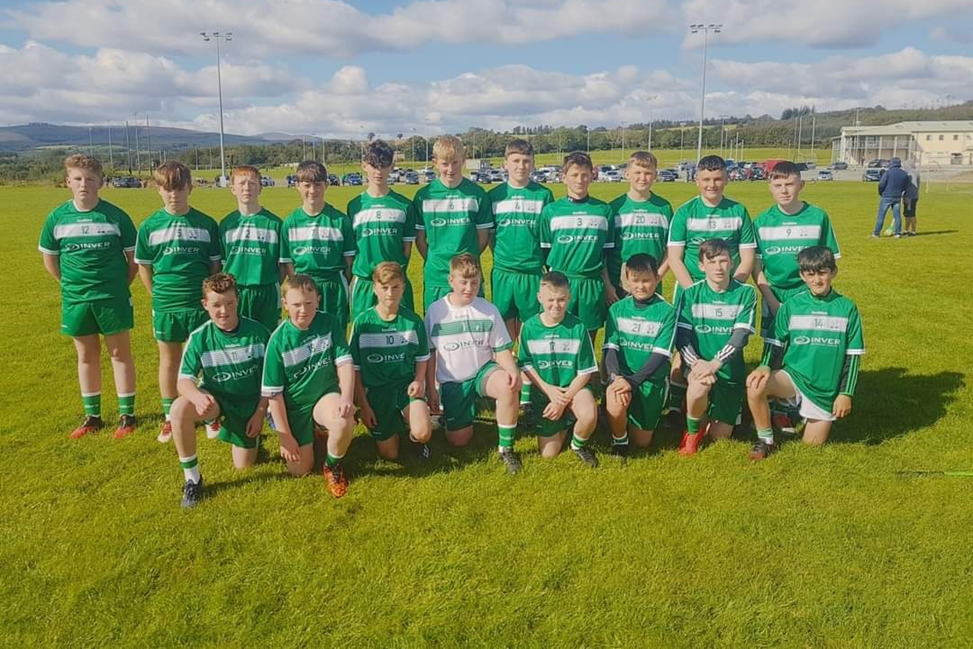 Under 17s
Coach: Joe O'Connor

What looked like a promising year at under 17 age group, with the club agreeing to form a combined team with Aughrim GAA Club, turned to great disappointment. After paying affiliation fees, Aughrim club were not contactable. The only correspondence Arklow Rocks ever saw on the matter was when the CCC granted permission for an Aughrim player to play at under 17 age level for another club.
Despite this, Arklow Rocks fielded a team of 13 brave players who tried their best to promote hurling in the County. A big thank you to these players and their coach Joe Connors who continue to fight the good fight.
2020 Club Review and Acknowledgements
Special mentions: –
To our Executive Committee headed by our Hurling Chairperson Vinnie Byrne and Camogie Chairperson Penni Heald. A huge thank you on guiding the club through this year.
The grounds staff, especially Jack O'Reilly. The grounds are always in top condition and are known county wide for the quality. Not only for the work on maintaining the grounds but also for implementing the urgent changes required to make our grounds safer.
Richella Wood and Tom Byrne for a great but tricky year as Camogie and Hurling Secretaries.
To our "Super Subs Ladies", Breda, Richella, Jennifer and Daimhnait, for all your administration help and assistance throughout the season.
And to Mary Geraghty, our resident photographer, for capturing those moments we could on the pitch/
We optimistically look towards 2021 and hope for the biggest and best year ever for Hurling and Camogie at the Rocks.  These are a great group of boys and girls and the numbers in both have grown even in 2020 which we think is a great achievement and proves the excellent reputation that the club has.

This season's accomplishments are something to be very acknowledged and has made us so proud to be a part of the Rocks Team and part of the Rocks family.  It really is a great place to be, Carraig Parnell Abú!