To download a registration form please click here: REGISTRATION
All players must register with the club at the beginning of the season to partake in any match. Costs are as follows: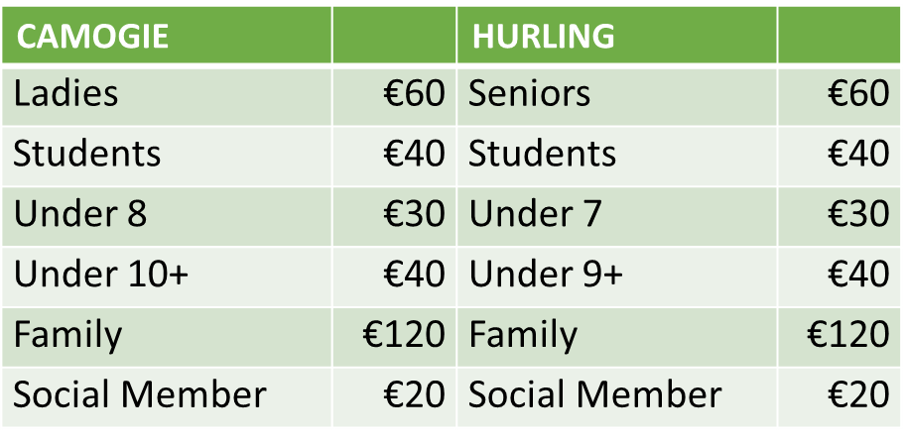 Sibling discount:
1st Child – Full price
2nd and subsequent children €10 discount.
Social Members support the club and have full access to all Club events.
Subscription Costs
Each coach will collect a weekly or monthly subscriptions from each player at the first Saturday of each month at training. Subs can be paid in advance.
€3 per week if paid weekly
€10 per month if paid monthly
€60 per season if paid with registration

Training Times
TBC
If these times clash with any other activity let your coach know and we will work something out.
Matches
A Blitz is a set of short matches. We usually about play about three (20-30min) matches per blitz
All blitzes and matches are played within County Wicklow, some home and some away. A full list of fixtures will be available from the coaches when available and on the club online calendar.
Fixtures Calendar
CAMOGIE
Under 6 – no matches but may play with U8s once confident enough
Under 8 & 10 – Blitz on miscellaneous Saturdays (at most every second Saturday) from April to September. Most start at around 10.30 and finish by 1pm.
Under 12 – Must play in 3 Friday evening Blitzes at start of the season in April/May and then play a match every Friday evening until September.
Under 14 –
Under 16 –

Equipment
Shin Guards – we advise all players to wear of shin guards.
Hurls And Helmets – the club can provide hurls and helmets to new players until such a time that they purchase their own. If you need advice on what size hurl to purchase please ask your coach to ensure you get the right size. Many new players buy their hurls too big.
Match Kit
Green Socks
Black skort or shorts. Skorts are available to order from Penni Heald.
Jerseys are provided at matches so no need for special tops.
Training t-shirts are available
Football Boots – runners are fine to start with if the pitch is dry. Metal studs are not allowed.
Coaches
CAMOGIE
Your Camogie coaches work together as a team and cover each others' groups as required.
U6   – Penni Heald 
U8   – Penni Heald 
U10 – TBC
U12 – Vinnie Byrne/Jimmy Kavanagh
U14 – Keith Delaney/Fiona Byrne
U16 – Vinnie Byrne
Ladies Junior – TBC
Helpers : Required as our numbers are growing.
HURLING
U7 –   Philip Byrne
U9 –   Philip Byrne
U11 –
U13 – Jason Redmond/Liam Murphy/Bill Connors
U15 – Jason Redmond/Sean Pierce
U17 – Joe Connors/Sean O'Shea
Helpers: Required as our numbers are growing.