HURLING
MENS INTERMEDIATE
We opened their league campaign in April and ended up playing Barndarrig in the league Final in Aughrim in July where we were beaten. This was a rude awakening before the first round of the Championship which was to be run on a league basis.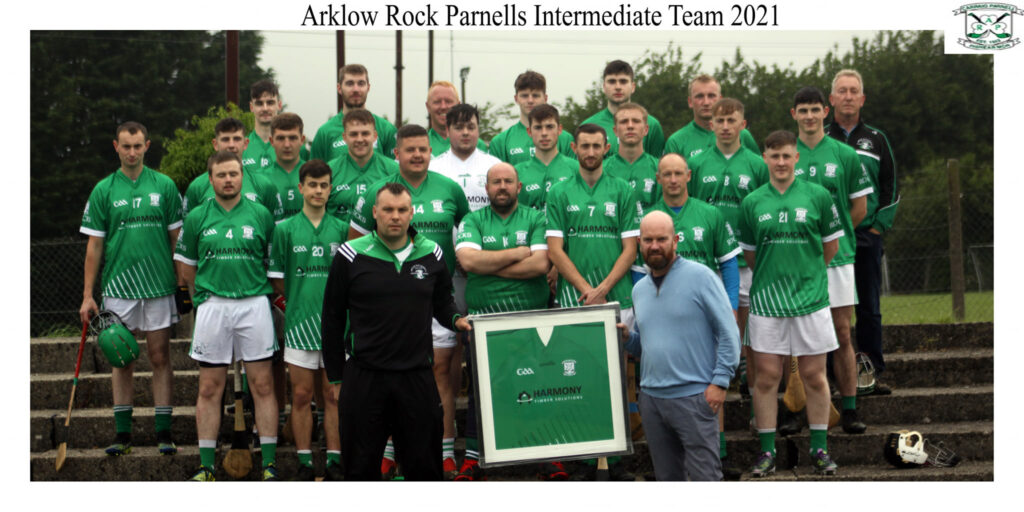 Success was not to be ours in the 2021 Championship.
Arklow Rocks represented Wicklow in the Leinster Club Junior Hurling Championship and were drawn against Tara Rocks, Gorey. The game was played in Enniscorthy in November and we were comprehensively beaten by a much fitter and better hurling team on the day.
Our Junior Hurling Team opened their league campaign in June fulfilling all seven fixtures and ending in August, winning just one game. The Junior hurling championship was also run on a league basis this year, with the club playing four games in their group unfortunately without a win.
Lots to build on and improve for next year.
U7 and U9 HURLING
The season started on the 18th of June 2021 for our under 7 and under 9 hurlers with an away trip to Aughrim and the club was well represented with some fine hurling skills on display. We played in a total of seven blitzes throughout the year, hosting two, and we would like to thank all the parents who came out and supported us. It was great to see all our young hurlers enjoying themselves whilst wearing the Green & White of Arklow Rocks.
U10 Player Pathway
Our under 9 team competed in an Under 10 player pathway league ran by the County Board, playing a total of five games. These players have put in a great effort this year. With approximately 15/16 players to pick from Dave Carroll and Ciaran Mellon were spoilt for choice. This fine group of hurlers won all their matches and collected a trophy along the way. Our Under 11 will benefit next year from the players moving up.
COACH: David Carroll, Ciaran Mellon
U11 HURLING
A great improvement in these players throughout an up and down year. This group put in some fine performances. Along the way they faced their old foe Carnew in a final on the 13th of October. On a windy morning in Ballinakill the Rocks ran out winners 1-7 to 0-3. It what was great game of hurling to watch.
COACH: Bryan O'Leary, Philip Byrne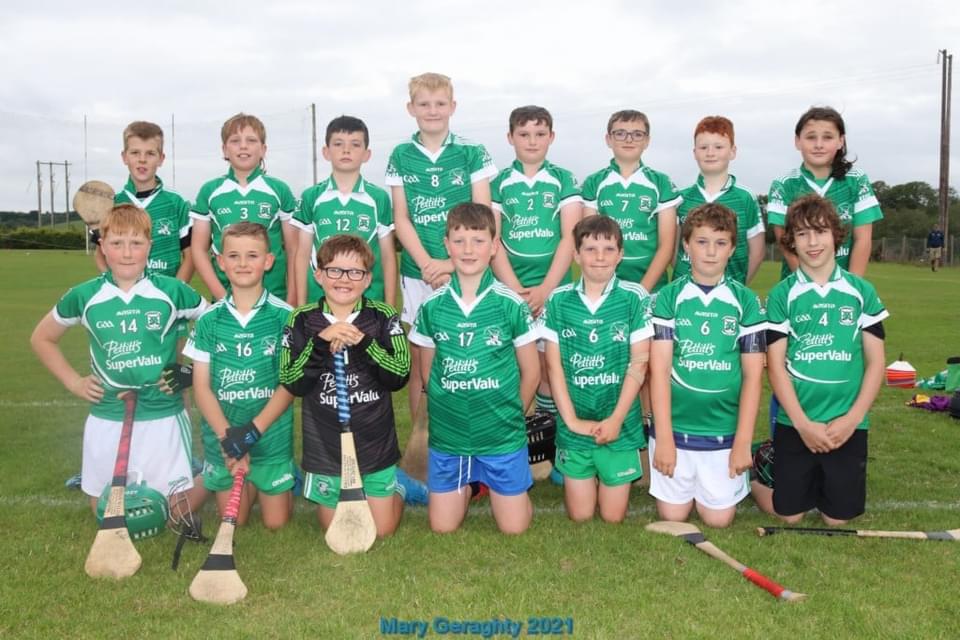 U13 HURLING
Our Under 13s had a remarkably successful year given we had only five on age players and we had to concede our first game of the year due to fixtures of other age groups as we did not have enough players. We fought on and with a number of under 10 and under 11 players, we fielded fully competitive teams for every other game and eventually finished in 5th place in the league.
We went on to face Kilcoole in the championship semi-final. The true grit of this team was never more evident and by pure determination they held a tough Kilcoole team scoreless which is remarkable accomplishment in any game.
Onto the final, the first one, against Eire Óg Greystones and with a comfortable lead mid-way through the second half the game was brought to an early conclusion through no fault of any players.
This led to massive confusion and uncertainty to such a young group of players. What do we do? What is going to happen now? The players themselves at this young age decided we keep training for the unknown and so they did until they got word, a replay!!
They attacked the replay with the same eagerness and vigour they had all year. It was a game of ups and downs; we lead for the entire first half. Eire Óg fought back to a draw with 15 minutes left. At the water break they were asked did they want to win it and, like they had all year, they responded. 1-2 in the next couple of minutes and the trophy was coming to Arklow. An incredible feat given the trials and tribulations they had faced all year. A fantastic group who never give a moments trouble and who, above all else, love their hurling. What more could you ask for! Yup the Rocks
COACH: Sean Pierce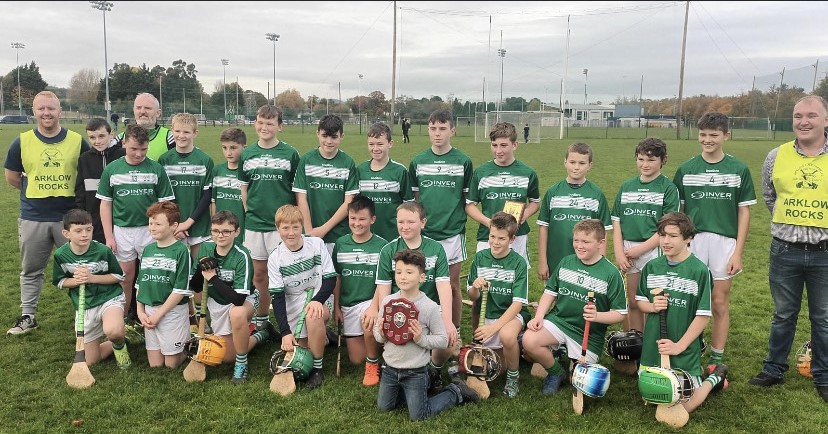 U15 HURLING
Once again it is the time of year for reflection and this year has been a thoroughly enjoyable and rewarding year for our under 14 and under 15 hurlers, despite the constant threat of the dreaded covid virus.
Our under 14 team competed in the player pathway league. They won all the group games comfortably and all players got the chance to play lots of game time and really enjoy their hurling. In the final, captained by Eric Wright, we outscored our rivals, St Pats of Wicklow and ran out winners. Under 14 County champions!
Our u15 team, while mainly younger players, gave a massive account of themselves. We played nine games and were highly competitive in every single game. Unfortunately, we missed out on the A final but secured a spot in the B semi-final where we faced, Glenealy. The game was played with great speed and skill and at the end Rocks prevailing with nine points to spare, the cup was lifted by captain Jamie Somers.
Overall, it was a great year for both our teams. Hopefully next year will be just as enjoyable and a bit more "NORMAL" Carraig Parnell Abú
COACH: Jason Redmond, Liam Murphy, Sean Pierce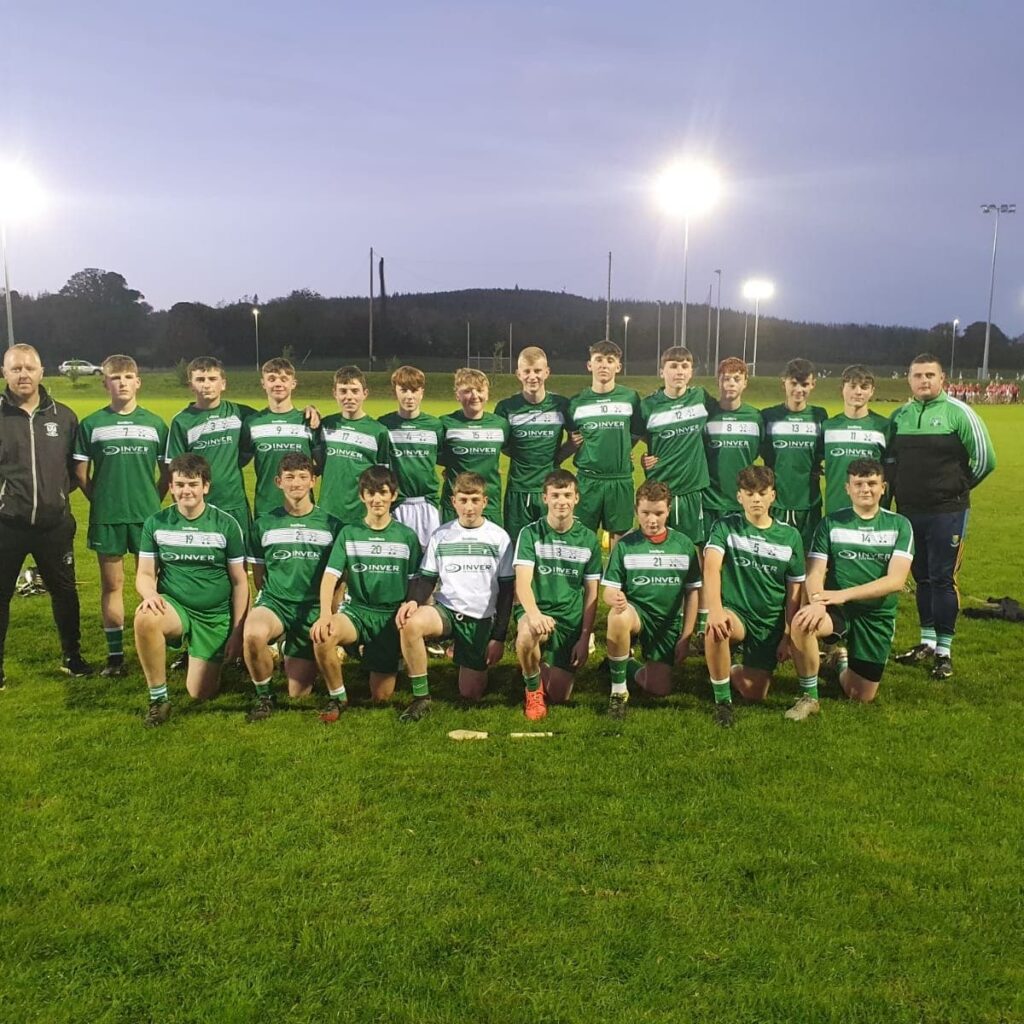 CAMOGIE
LADIES CAMOGIE
Word was sent out that the Rocks would have a ladies team in 2021 and the call was answered by previous players, new players and young players playing up. The panel was made and our coach got to work in May 2021.
The opening match was a win under our belt and was a great start to the campaign. These players developed as a team throughout the season. There may be no silver this year but Camogie at the Rocks is on the rise so watch this space.
PANEL: Aideen Reilly, Aífe O'Brien, Alannah Chell, Alice Daly, Aoife Hoey, Breda McCarthy, Carmel Redmond, Catherine Curran, Danielle Kavanagh, Denise Kavanagh, Denise Pierce, Doireann Kavanagh, Eimhear Lee, Emer Dillon, Emma Breen, Íde Ryan, Jessica Mellon, Katie O'Reilly, Kelly Somers, Lauren Higgins, Lily O'Toole, Lisa Hamilton, Lisa Mellon, Maisie Mellon, Mary Geraghty, Niamh Killoran, Nicole Yau, Orlagh Kelly, Roisin Murphy, Rose Hudson, Sarah O'Driscoll, Sinead Riley, Stacey Reilly, Abbey Wolohan, Aine Byrne, Ciara Lancaster, Doireann Killoran, Elizabeth Bourke, Erin Bardon
MANAGEMENT TEAM: Billy Mellon, Breda McCarthy, Penni Heald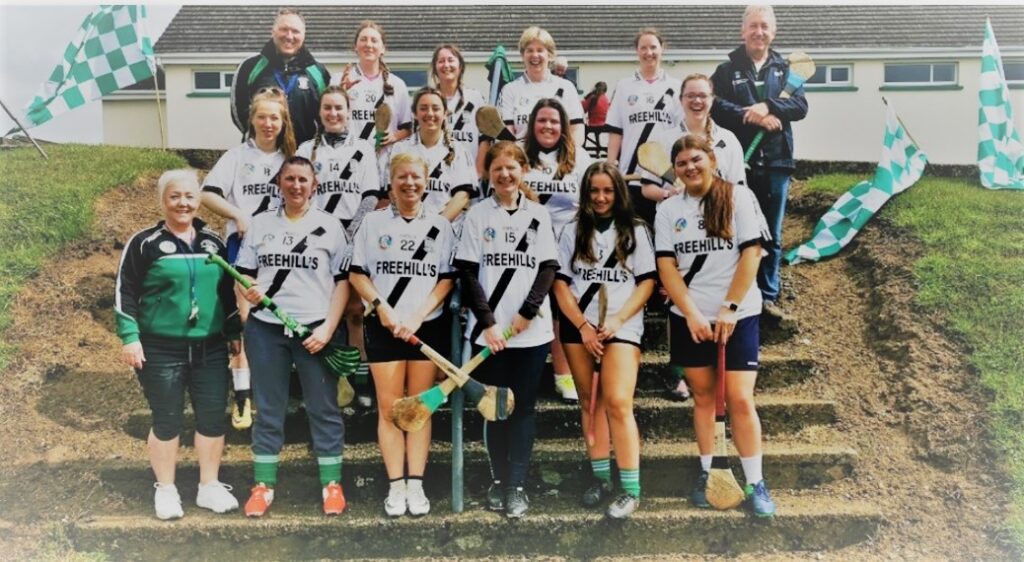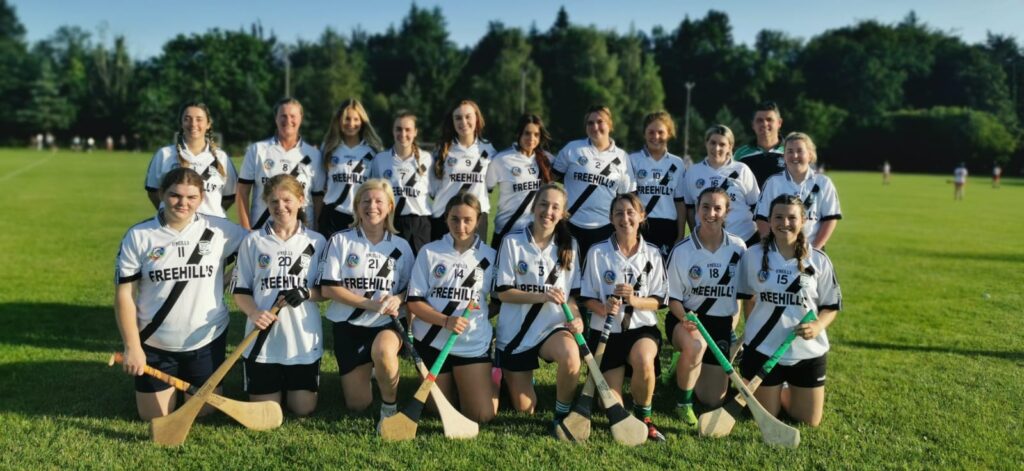 U6 and U8 CAMOGIE
At this age Camogie is all about fun and we try to fit as much in as possible here at Arklow Rock Parnells Hurling and Camogie Club.  We train on a Saturday morning.  We would encourage all parents to let their girls have a go.
This year our coaching team was improved by two of our older Rockettes, Lizzie Bourke and Grace Delaney.  These players are a great group of girls and a joy to coach.  A percentage of these girls have been playing together for a while, but it is great to welcome new little Rockettes to our growing team.  We are so proud of the improvement in skills from the start of the year to the blitz. Next year the U10s will benefit from some of these players but we are delighted that some are back with me again with the under 8s.  Keep up the good work, little Rockettes, and your love of Camogie!
Also thank you to all the mums, dads and grandparents who committed to getting to training and matches, washed the team jerseys and supported our team and club. Outstanding!
PANEL: Aine Mellon, Bonnie Furlong Douglas, Eva Mellon, Evie White, Faye McDonald, Fiah Ní Hipwell, Grace Walsh, Jade Flusk, Kate Marie Clune, Kate McGeachan, Kate Wolohan, Kaylin Kinsella, Lucy Geraghty, Lucy O'Reilly, Michaela Kinsella, Sophie Breslin, Sophie Scallan, AJ Maher Carter, Billie McElheron
COACH: Penni Heald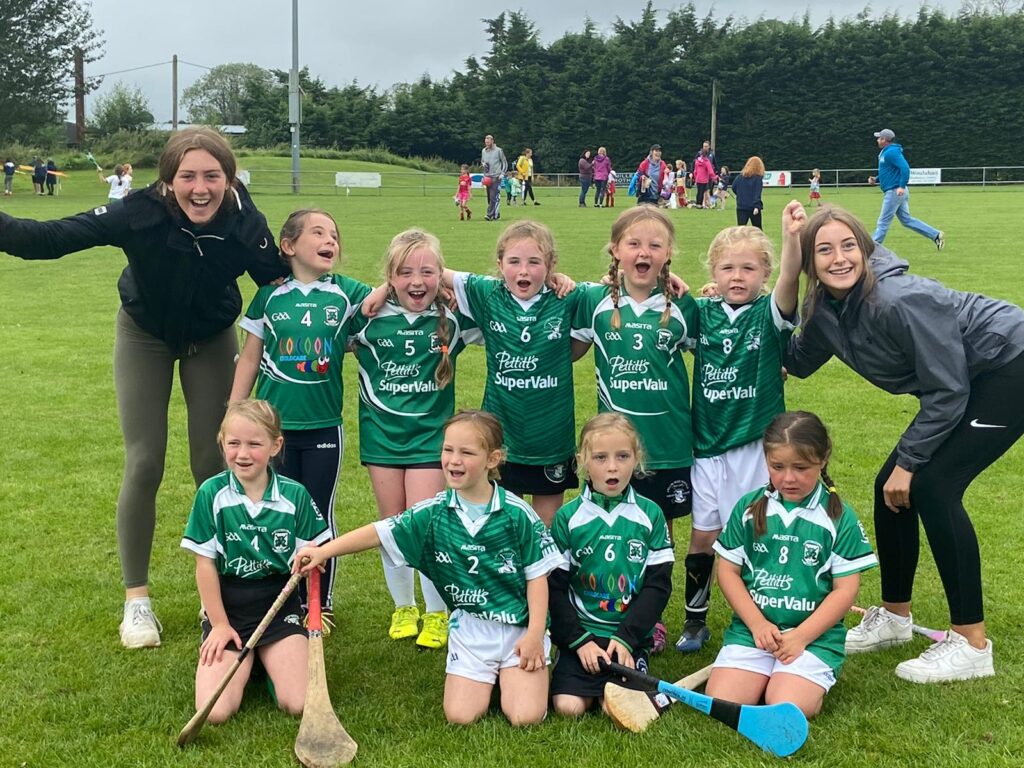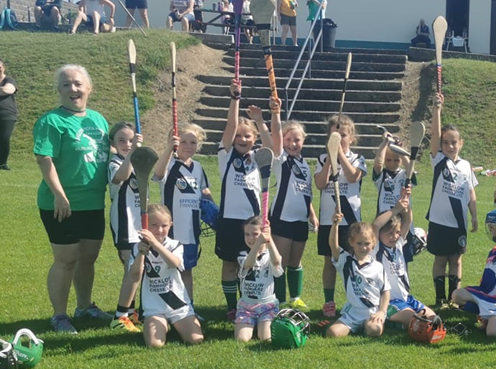 U10 CAMOGIE
The u10 camogie girls had a very successful year. After the majority of last year's squad moved up to under 12s it was an unknown how the new group would fare. However, there were no fears as the team developed well and remained unbeaten all year including blitzes throughout Wicklow and a few games in North Wexford. It was great to see some girls who only started a year previously progress so well. Keep up the commitment and enjoyment and bring more friends next year!
COACH: Danny Curran, Eddie Mellon
PANEL: Abi Melzer, Alina Riley, Ava Tobin, Bronagh Healy, Caoimhe Yorke, Caoimhe Kinsella, Clíona O'Donovan, Emily Allen, Eve Hemp, Hannah McGeachan, Isabel Farrell, Jessica Pierce, Keeley Stafford, Lily Curran, Lily O'Donnell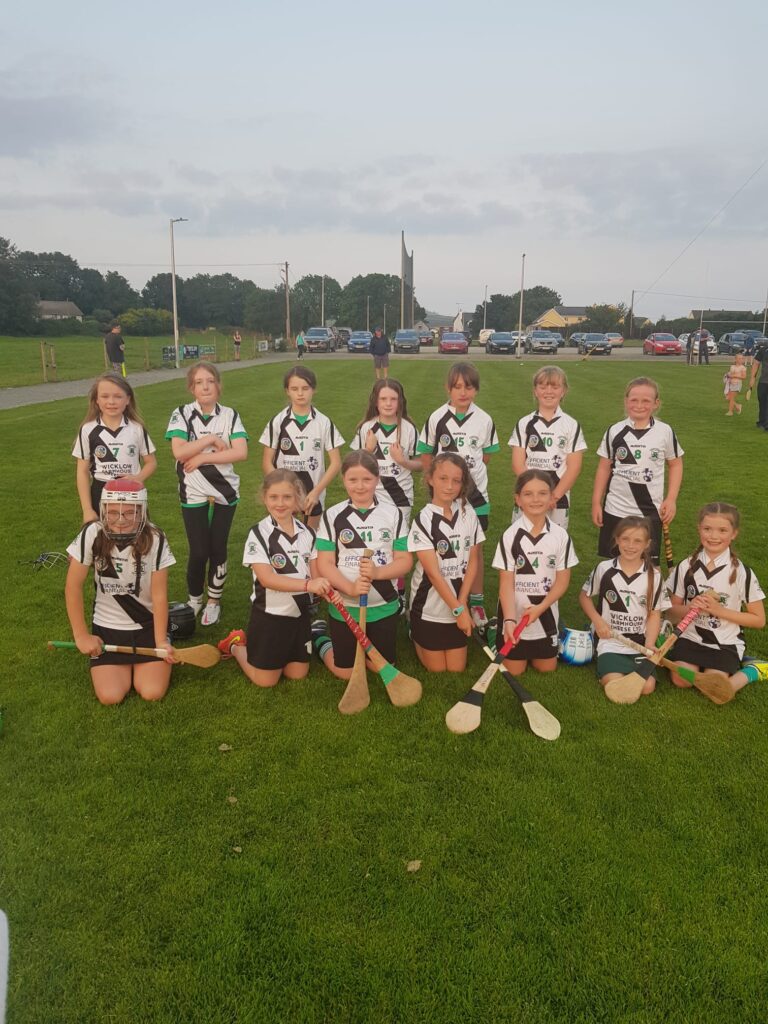 U12 CAMOGIE
The U12 girls had a late start on the camogie calendar, with training commencing toward the end of April but this only seemed to heighten their determination to progress for the year. The girls worked hard in training improving their skills. Our new players picked up the basics very quickly and were soon getting stuck into matches where they held their places with the more experienced players. Another thing that steadily increased over the year was the numbers turning out for training and matches. At the end of the year we had 34 players!
With the great numbers turning up for training we could have two teams for the Go Games. We have our first game at the end of June, a friendly against Avoca. This was a great game to watch with the hard work in training paying off. The new girls also got some match experience, with a few playing their first camogie match. We followed this with away games against Avondale and Carnew, and a home game against Éire Óg. All tough games but the Rocks girls fought hard and played some great camogie in them all.
We played our final Go Games matches against Avondale. This was followed by a great day in Pearse Park for the County Camán Festival. We had three teams playing at this festival which showed the continued enthusiasm of the girls for the game.
These girls showed some real grit and determination throughout the year as they had some very tough matches this year but they played their hearts out until the final whistle regardless of how the match was going. They are a fantastic group of girls with super manners and are a credit to their families. We celebrated the year of camogie, friendships and fun with a fun training session at the end of the year followed by pizzas and a presentation.
A big thank you to all the girls' parents/families who travelled to all the games and supported the teams throughout the year. Also, a big thank you to the other ARP coaches who stepped in anytime they were needed.
MANAGEMENT TEAM: Jimmy Kavanagh, Mary Geraghty, Damhnait McDonough and Sarah Forde.
PANEL: Abbie Kavanagh, Abbie Reid Furlong, Amy O'Sullivan, Annie Breslin , Aoibhe Merrigan Carroll, Aoife Murphy, Caoimhe McDonough, Ciara Chell, Ciara Gavaghan, Elsa Byrne, Emilie Vautrin, Emma Gannon, Grace Furlong, Gracie Byrne, Helena Lawlor, Kara Gager, Karla Redmond, Kate Geraghty, Katie Hempenstall, Kendra Gilhawley, Laoise Mellon, Layla White, Lucy Forde, Mia Flusk, Nete Kavanagh, Niamh McGeachan , Olivia Burke Emery, Olivia Byrne, Sadhbh Fitzgibbon, Siun Byrne, Sophie Hughes , Sophie Ní hAodha, Zoe Byrne and Zoe Walsh.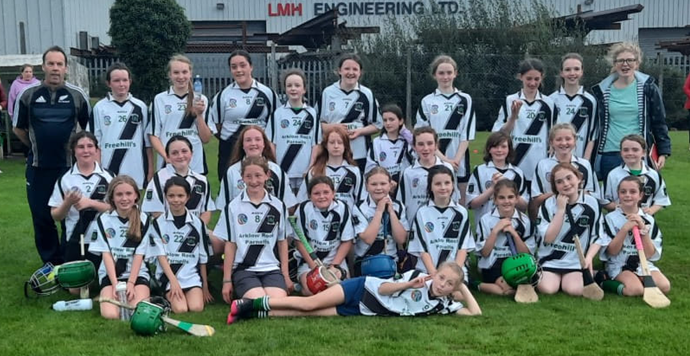 U14 CAMOGIE
This year we started off with a panel in this age group of 16 girls and this grew to about 23 by the end of the season. Such was the good time the core group were having that word of mouth spread and we grew in numbers. We got back on the field in April and trained really hard. We started to compete in the league every Monday night from the beginning of July. We played every Monday night and never failed to fulfil a fixture. We went every night with a minimum of 17 girls. They each and every one gave 100% commitment. We played all our league games over the summer winning two games at home. We then entered the championship and again fulfilled every fixture and through this commitment we qualified for the B Final. Unfortunately, on the day it was not to be. These girls showed great heart and commitment over the year and were a pleasure to work with. Their commitment to camogie, themselves and the Rocks was great to see.
PANEL: Ailbhe Wood, Alaoise Geraghty, Ava Wolohan, Bronwyn Crummy, Catherine Bourke, Emily Hayes, Erin Byrne, Freya Molloy, Isobel Byrne, Jade Farrell, Jamie Kenny, Kate Priest, Kitty Byrne, Leah Mellon, Maeve O'Donovan, Nia Devereux, Niamh Farrell, Poppy Heald, Saoirse Chell, Sinéad McCarthy, Ciara Breen,
MANAGEMENT TEAM: Vinnie Byrne, Breda McCarthy, Richella Woods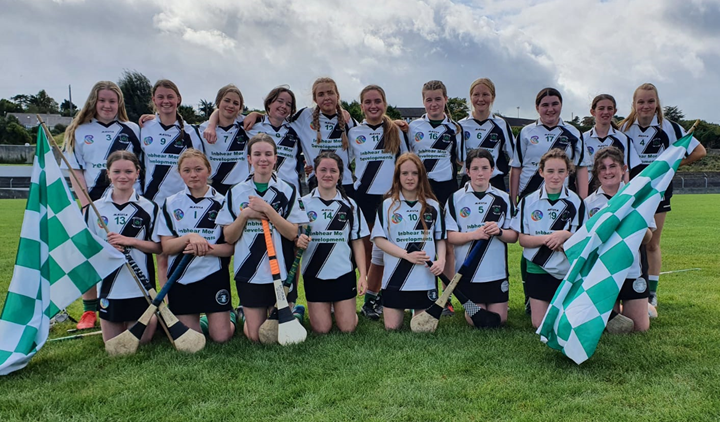 U16 CAMOGIE
We start this year with a core group of 12 girls at this age grade made up with girls from under 14 playing up.  However, like the under 14 group, we added to our playing group over the year.  With some great finds during the year, it only made this strong group stronger. We played five league games and competed strongly in all with two wins and some very close defeats. We improved in each outing and the confidence in the team grew amongst in the group.  They started to believe in themselves and that they were capable of competing with the best.  This belief followed through into the championship where we played six games winning four and competing in the other two. Each match was a battle and the girls shone through with their skill and determination. We deservedly reached the B final and narrowly lost out to our closest rivals Annacurra in a fair tough battle. The girls were heartbroken, but they can be so proud of themselves in the effort they had put in, in the final and throughout the whole year.  They are a group who we can be very proud of and we are sure they will go on to great things.
PANEL: Abbey Wolohan, Ailbhe Wood, Aine Byrne, Alaoise Geraghty, Amy-Lee Hill, Aoise Dunning, Ava Wolohan, Bronwyn Crummy, Ciara Lancaster, Deirbhile Gavaghan, Doireann Killoran, Elizabeth Bourke, Ellie Duffy, Emma Seckington, Erin Bardon, Erin Byrne, Eva Duffy, Grace Delaney, Isobel Byrne, Leah Mellon, Nia Devereux, Niamh Farrell, Poppy Heald, Saoirse Chell, Sarah Keeley, Sinéad McCarthy, Sophie Mooney, Zara Fennell
COACH: Vinnie Byrne, Richella Woods